Don't Forget To Bookmark This Page
or Add It To Your Favorites

Health And Beauty Benefits Of Pearl Powder
Rich in minerals and amino acids, our pearl powder has an magic effect on
the skin, hair, health & body; the health and beauty benefits are staggering.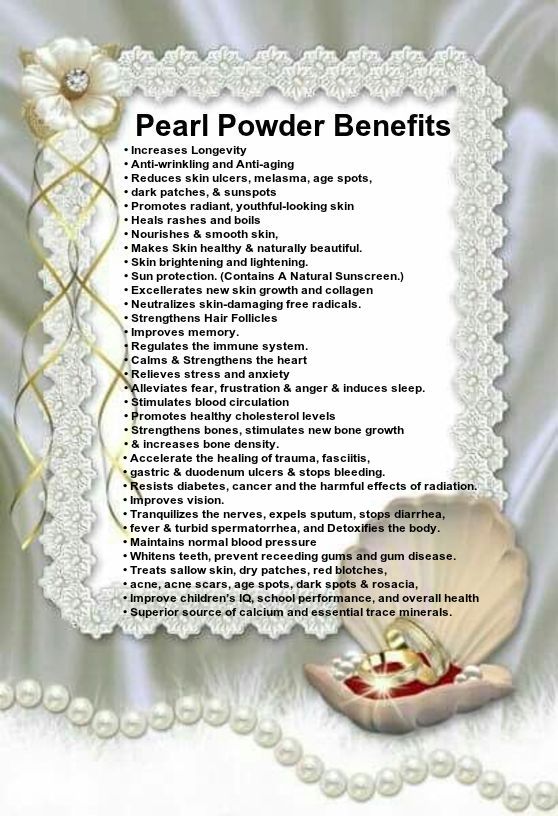 Visual artistes in the China Tang Dynasty when applying stage makeup used Pearl Powder to beautify and protect their skin. Empress Dowage who was a powerful and charismatic woman who unofficially but effectively controlled the Manchu Qing Dynasty in China for 47 years took Pearl Powder Internally as well as using it externally. And Wu Ze Tian also used Pearl Powder internally and externally and her skin was said to be as beautiful and radiant as younger woman.

Pearl has other interesting applications. In China, pearl powder is used to heal wounds because of its antiseptic properties. In the United States, surgeons frequently sprinkle a lower-grade pearl powder, called surgical pearl, into their latex gloves before operating. The soothing, antiseptic pearl powder absorbs excess moisture and may help prevent the spread of infection.

Traditional Chinese medicine (TCM) uses the medicinal qualities of ingested powdered pearl to treat inflammatory illnesses including epilepsy, convulsions, hyperactivity, hypertension, insomnia and palpitations. Pearl powder sprinkled into shoes helps absorb odor and excess moisture. Pearl has been used to treat ulcerous sores by sprinkling the sores with the powder. Pearl will keep you young looking and healthy throughout your aging years.


Quality Control & GMP Certificate
Scientific Evidence On Pearl Powder's Healing & Beauty Benefits
Testimonies

The very first time I used Pearl Powder I was amazed at how soft and silky my skin became, after the first application. Everyone says my skin looks like a young woman's. My wrinkles have softened and are fading away, and the tone and texture is amazing. I love Pearl Powder, I just wish I had found it earlier in my life.

SA, MO

I take in abused and abandoned animals and I put a little pearl powder in their food. It helps them calm down and makes their coats glisten and shine. I also take Pearl Powder daily and I feel Great and my skin looks Amazing.

VW, Canada



Discover The Power Of Pearl Powder Today!





*These statements have not been evaluated by the Food and Drug Administration.
This product is not intended to diagnose, treat, cure, or prevent any disease.












Copyright © 2003 -2013 Sarah's Age Defying Secrets. All Rights Reserved